(Tofu and Chirimen (ちりめん豆腐) / Image)
Tofu in Japan is a revelation. Not at all like what is found in the U.S.A. but a wide variety of textures, tastes, sizes, and shapes. We always have tofu in our fridge. It can be added to miso soup, top a salad, or served as it is with a simple topping.
This is one of my favorite toppings. Chirimen (tiny anchovies that are blanched in salt water) are quickly sauteed in sesame oil until crunchy. These are then placed over tofu and topped with soy sauce.
Other popular toppings include:
* grated ginger and soy sauce

(Tofu with grated ginger and soy sauce)
* wasabi and soy sauce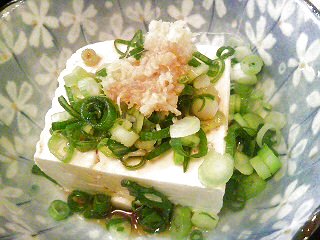 (Tofu with wasabi and soy sauce)
* kimchi
* chopped tomatoes and extra virgin olive oil
* extra virgin olive oil and salt
By JST