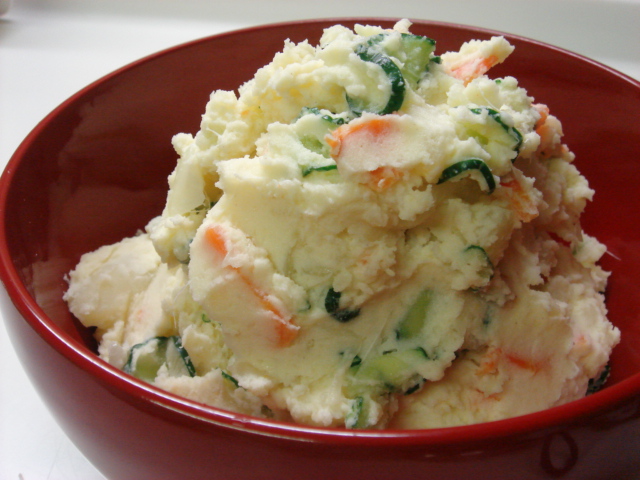 (Potato Salad / Image)
Potato salad is a dish made from potatoes, the versions of which vary throughout different regions and countries of the world. Although called a salad, it is generally considered a side dish, as it generally accompanies the main course.
And here in Japan, it's also very popular as one of Japanese Dishes.
Ingredients:
(Serves 4)
* 400g potatoes
* 1 cucumber
* 1/2 onion
* 2 slices ham
* granulated consommé
* 1/2 cup mayonnaise (100 ml)
* salt and pepper
Method:
1. Peel the potatoes, cut them into bite-size pieces, soak them in water for about 5 minutes, and drain them well.
2. Put the potatoes in a bowl lined with a paper towel. Cover it loosely with plastic wrap.
Heat in the microwave for 7 to 8 minutes.
3. Mash the potatoes.
Add the consommé powder, and mix well.
4. Slice the cucumber thin and rub it with salt.
Let it stand for a while. And squeeze it.
5. Slice the onion thin, and soak it in water for 5 to 10 minutes. Drain it well.
6. Cut the ham into rectangles.
7. Add the ingredients you've cut to the potatoes, and mix them with mayonnaise.
Season with salt and pepper, and the potato salad is done.
Make sure to keep it very cold until just before serving.
By JST